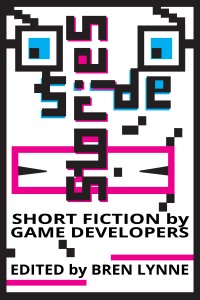 "Side Stories" is an anthology of short stories by game developers.
Authors come from both digital and analog game development, computer games to paper games. Contributors include Greg Costikyan (veteran game designer of Paranoia and Star Wars: The Role-Playing Game), Christopher Mitchell (WGA award for game writing, Deathspank, Simpsons Hit and Run), and Rees Savidis (writer and award winning filmmaker, SSX, Driver: San Francisco), and many others.
A share of proceeds will be donated to the Child's Play charity.
"Side Stories" is available in ebook form from the following retailers:
Included stories:
"Sheepdog" by Bren Lynne
An armed student defends his classroom from a shooter.
"Spaceship and Bicycle" by Greg Costikyan
Asteroid prospectors undertake innovative repairs after their spaceship is crippled.
"Fizzy Piss Grape Shit" by Rees Savidis
The end of the world, from the other perspective.
"And The Heart Goes Tick Tick Tick" by Chris Dahlen
A matchmaker finds adventure and romance when and where she least expects it.
"Buried Legends" by David Dubord
Unearthing buried treasure releases unexpected riches.
"Paper Cuts" by Peter Walsh
A software developer has problems after he reveals the weaknesses in government surveillance systems.
"Cultists" by Christopher Mitchell
Members of an apocalypse cult, frustrated with the lack of results, take matters into their own hands.
"Lucky Malloy and the Cuban Zombie Crisis" by Jason Dozois
A washed-up football player turned zombie hunter faces trouble when his cat becomes a zombie boss monster.
"The Christmas Trolls" by Andrew Laing
A game developer stands trial for creating a game that turns users into Trolls.